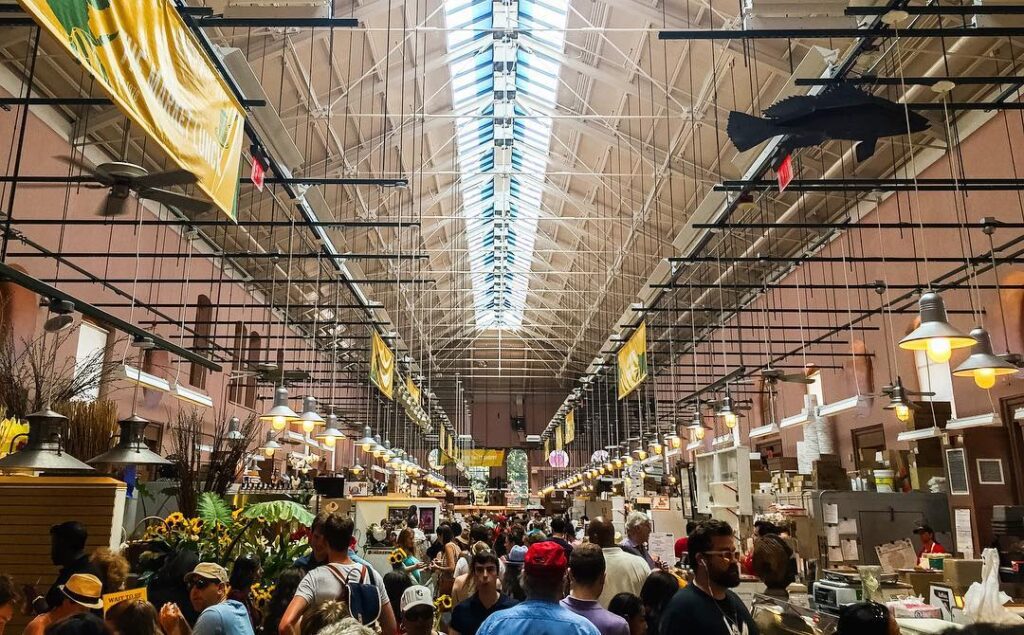 Located steps away from the neighborhood of Capitol Hill, the funky, eclectic Eastern Market is one of DC's coolest neighborhoods. Stop by for some food, drink, and art during your visit to Washington and the Graham Georgetown Hotel.
THE FARMERS' MARKET
Weekends at this public food market mean you can stock up on plenty of fresh fruit and vegetable vendors from nearby local farms. Want to pick up a souvenir? There are also craft stalls run by local artists selling paintings and home accessories.
225 7th St SE, Washington, DC 20003
(202) 698-5253
DELICIOUS GLOBAL RESTAURANTS
Eastern Market is home to a host of fantastic eateries with a range of cuisines. Enjoy a plate of sizzling chicken tandoori at Pakistani/Indian joint Aatish on the Hill or indulge in a hot bowl of steamed mussels in white wine at Belga Cafe.
Aatish on the Hill
609 Pennsylvania Ave SE, Washington, DC 20003
(202) 544-0931
Belga Cafe
514 8th St SE, Washington, DC 20003
(202) 544-0100
QUIRKY COFFEE SHOPS
Enjoy a leisurely cappuccino break at Peregrine Espresso, a homey, cozy spot on Pennsylvania Avenue brewing fresh single-origin filter coffee that makes java nerds go wild. Looking to pair some food with you beverage? You can also pay a visit to District Doughnut, where you can pick up pastries in flavors like creme brulee.
Peregrine Espresso
1718 14th St NW, Washington, DC 20009
(202) 525-5127
District Doughnut
749 8th St SE, Washington, DC 20003
(202) 750-1955
COCKTAIL BARS WITH SOMETHING FOR EVERYONE
Want to sip on absinthe at a dog-friendly happy hour in a sumptuous drinking lounge? There's a bar for that—Wisdom— in Eastern Market. Prefer to sit outside and enjoy local oysters with your craft cocktail? There's a bar for that in Eastern Market, too—Hank's Oyster Bar. Whatever your mood or drinking preferences, you're bound to find something you love in one of Eastern Market's many cocktail spots.
Wisdom
1432 Pennsylvania Ave SE, Washington, DC 20003
(202) 543-2323
Hank's Oyster Bar
633 Pennsylvania Ave SE, Washington, DC 20003
Phone: (202) 733-1971
ECLECTIC STORES
Spend some time browsing the array of tiny, one-off boutiques with some unique offerings. Check out Howl to the Chief, a natural pet food store, and Capitol Hill Bikes to find some accessories for your set of wheels.
Howl To The Chief
733 8th St SE, Washington, DC 20003
(202) 544-8710
Capitol Hill Bikes
719 8th St SE, Washington, DC 20003
(202) 544-4234
image @errolswindow