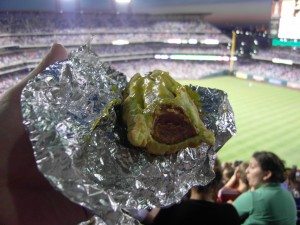 DC's newest major sports stadium, Nationals Park, has all of the essential elements for which one would wish in a ballpark. Located right by the Navy Yard on the Capitol Riverfront the park sits in an awe-inspiring neighborhood with views of national treasures like the Washington Monument and Capitol Building from certain concourses. Nationals Park also has several of DC's many Japanese Cherry Blossom trees standing throughout the facility. The modern design and state of the art broadcasting technology weaved throughout the stadium provides an optimal live viewing experience. In addition to all of these wonderful amenities, Nationals Park also has veritable smorgasbord of delicious food.
There are several different cultures and tastes represented throughout National's Park, but we will begin with the classic ballpark eats. Ben's Chili Bowl is a park favorite and their chili dog and chili cheese fries go wonderfully with a warm summer night and nine innings of world class competition. Vendors throughout Nationals Park also serve the general baseball-game delights like fries, chicken fingers, burgers, kosher hot dogs and Italian sausages. The best place to get all of this delicious American fare is Grand Slam Grill. Hard Times Cafe is also a money pick, offering its own take on the classic 'wings and nachos' combo.
Moving away from American food, Nationals Park offers a relatively wide variety of flavors from around the world. The Jammin' Island Outpost serves up spicy jerk chicken and delicious ribs inspired by original Jamaican recipes. Shawafel serves the delicious fried balls of falafel and shaved meat shawarma dishes that are popular in many Middle Eastern countries. South Capitol Sushi brings the brilliant raw fish dish from Japan to appeal to the park's more cultured guests.
After eating around the world and across the USA, Nationals Park will still have more stuff for you to try. From gelato to Dippin' Dots to funnel cakes, your sweet tooth can run amok at the ballpark. The Chesapeake Crab Cake Company brings the delicious local tradition of crab cakes to the park. And on top of it all, the park offers an array of appealing beers and cocktails. From macro-brewed domestic brands to local craft beers and homemade margaritas, Nationals Park provides plenty of ways to party. With so many options, the best way to decide where to eat at Nationals Park is to come out for a game either this spring or summer.
Best Places to Eat at Nationals Park:
Ben's Chili Bowl
Grand Slam Grill
Hard Times Cafe
Jammin' Island Outpost
Shawafel
South Capitol Sushi
The Chesapeake Crab Cake Company
Our hotel near Nationals Park serves as the perfect home away from home for your next baseball trip to DC.