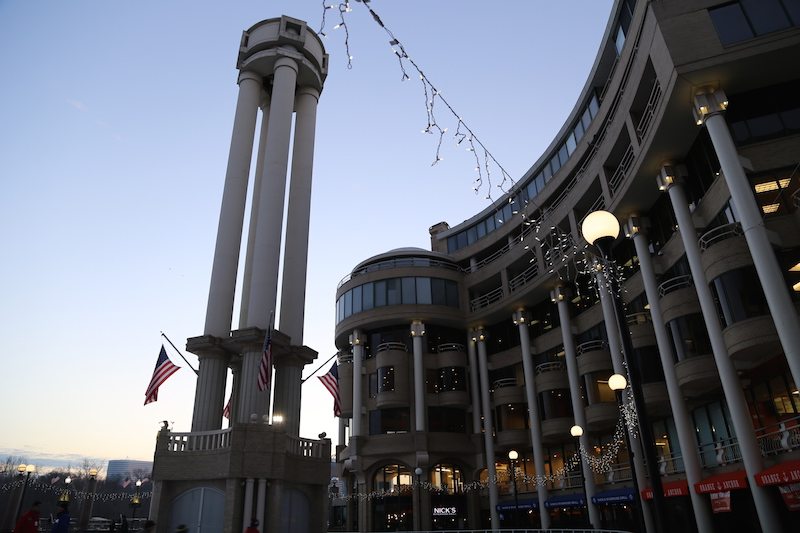 Just down Thomas Jefferson Street from the Graham Georgetown Hotel, Washington Harbour is an oval enclave of attractions set right on the Potomac River. A beautiful place to grab a drink or a bite to eat, it's also the perfect spot for a waterfront run or a for a lazy afternoon on a bench. Here's our guide to the Harbour's must-see destinations:
Farmers Fishers Bakers
A proud proprietor of sustainable dining, Farmers Fishers Bakers offers an eclectic collection of regionally inspired tasting plates, and a noticeably fresh farmers market weekend brunch. Tableside mashed guacamole, and the hot Maryland crab dip are easy, can't fail snacks to try here.
The Washington Harbour Ice Rink
Come November, the massive centerpiece fountain transforms into the city's largest ice rink, nestled between the Harbour's curved buildings and the water. Open every day, the 12,000 square foot rink offers skating lessons and party rentals.
Fiola Mare
James Beard Award-winning chef Fabio Trabocchi serves seasonal dishes and sustainable seafood at this fine dining Washington Harbour restaurant. Touted as one of the best new restaurants when it opened in 2012, and a DC staple since then, Fiola Mare is a favorite for its pasta dishes like the Maine lobster ravioli with ginger and chives.
Potomac Riverboat Company
For those who visit during the warm seasons and cannot experience the ice rink, the Potomac Riverboat Company has your back. Take off from Washington Harbour for tours to the Jefferson Memorial and Washington Monument.
Nick's Riverside Grill
This family bar and grill serves quintessential American food with a waterfront view from its dining room lined with wraparound windows and its outdoor patio. Patrons enjoy craft beers like Fat Tire and Dogfish Head and a knockout chili. (We also love the spice-rubbed Idaho pork chop).