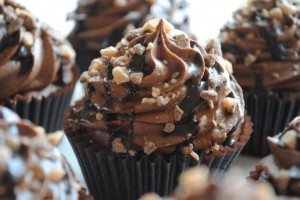 Georgetown is known for its famed boutiques that line M Street and its prestigious university, but did you also known for its thriving cupcake rivalry? Who has the best cupcake? If only it were that easy, this hotly contested debate is something you'll have to decide for yourself. We'll tell you the major players and let you be the judge.
Sprinkles Cupcakes
3015 M St NW, Washington, DC 20007
(202) 450-1610
Sprinkles Cupcakes originated in Beverly Hills in 2005 right before the cupcake frenzy took over the nation. Yes there are other cupcake competitors out there, but Sprinkles Cupcakes has perfected the art of the cupcake. From the range of flavors, which run the gamut from Triple Cinnamon to Ginger Lemon, their cupcake has been praised for their flavorful frostings and just right cake texture. They are also the innovators of the 24 hours cupcake ATM (the world's best invention), which dispenses their cupcakes 24 hours a day and can be found in Beverly Hills, Chicago LA and soon DC.
Baked and Wired
1052 Thomas Jefferson St NW, Washington, DC 20007
(202) 333-2500
Baked & Wired is a family-owned coffee shop and bakery located (practically) across the street from the Graham. They make everything in small batches on site. We're particularly fond of these moist and delicious treats. Popular flavors include Red Velvet, Strawberry and Vanilla Vanilla.
Georgetown Cupcakes
3301 M St NW, Washington, DC 20007
(202) 333-8448
Perhaps the grand dame of cupcake culture in DC is Georgetown Cupcakes. In 2008 sisters Katherine Kallinis Berman and Sophie Kallinis LaMontagne founded Georgetown Cupcake and soon after made it to the national stage on their television series DC Cupcakes, which airs on TLC. Georgetown Cupcakes has since gone bi-coastal, but the Georgetown location will always be the flagship! Be prepared for lines that stretch down the sidewalk (but move quickly) and also follow them on twitter because in addition to updates they'll also tweet passwords which unlock the secret Free Flavor of the Day (follow @ Gtowncupcake)