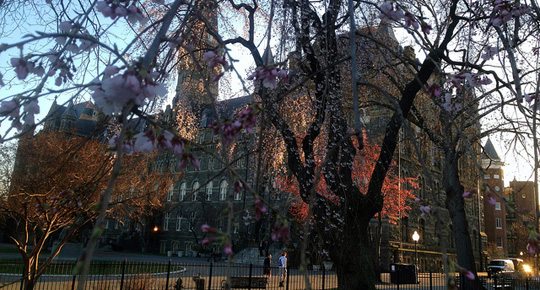 One of The Graham Hotel's most recognizable neighbors is Georgetown University, the prestigious institution for higher education known for grooming the country's best politicians.
The university's annual commencement ceremony will draw thousands to the quaint neighborhood of Georgetown the weekend of May 15th. Family members and friends will descend upon the area's restaurants, riverfront parks, and national monuments to celebrate the accomplishments of their Hoyas alums.
As local experts and devoted concierge personalities, the team at The Graham Georgetown is eager to share their town with the new arrivals. Whether you want to celebrate with a low-key meal, make a toast, or host an impressive graduation dinner at one of the city's hottest tables, this official Georgetown University Graduation Guide will help you make the most out of your student's final college hours.
The Casual Meal
Whether it's the day you come to town, or in the hours before your departure, you'll likely need to grab a quick, casual bite during your weekend in Georgetown.
Pier 2934 is a local staple for fresh seafood, and is famous for its all-you-can-eat snow crab legs. The restaurant also serves boil bags filled with the day's most fresh catches and a flavorful mix of spices and vegetables.
Grab a classic sandwich from Stachowski Market and Deli and take your lunch to one of the city's many parks or green spaces. Give in to your inner glutton with the four-meat grinder, piled high with salami, coppa, mortadella, and sopressata, and topped with fresh provolone and hot peppers. Stachowski also makes a great meatball sub and roast beef dip.
The Graduation Feast
Congratulate your graduate with a top-notch meal following the commencement ceremony. The neighborhood has no shortage of reputable, high-end restaurants to choose from, and this sophisticated steakhouse and Italian seafood spot are guaranteed to please all the members of your party.
1789 Restaurant is one of the most well-known, upscale restaurants in town, with its period décor and a menu that reflects Georgetown's appetite for refined fare. Patrons can indulge in classic entrés (the dry-aged New York strip steak and racks of lamb), or sample contemporary creations like suckling pig ragout and foie gras torchon on brioche.
Fiola Mare is another premier restaurant that's perfect for either a graduation lunch or dinner. The frutti di mare is the hallmark seafood platter, stacked with oysters, cherrystones, lobster tails, and more. Fiola Mare is also known for excellent lobster ravioli and tuna carpaccio.
The Toast
What better way to honor the hard work and growth of your son or daughter than with a toast? Imbibe on some of Georgetown's best craft cocktails at The Graham Georgetown's rooftop bar and lounge, The Observatory. Grab a progressive cocktail, a fine cigar, or splurge on a bottle of celebratory champagne, like the Dom Pérignon Brut or Veuve Clicquot.
If you're ready to get the party started, another great place for drinks during graduation weekend is Blues Alley. This underground venue maintains the neighborhood's storied jazz and blues traditions with nightly live performances. Blues Alley is a place where all generations can have a drink, a dance, and a good time.
Things to Do In and Around Georgetown
If you're traveling far for Georgetown's graduation, book a room at The Graham Georgetown and extend your visit for an extra day or two. After the festivities have concluded, walk off your feast along the majestic Potomac River, or explore D.C.'s most famous destinations on foot, like the National Mall and U Street.