24 Hotel Bars In The US You'll Want To Visit ASAP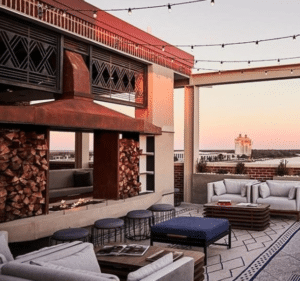 19. The Graham Washington DC Georgetown (Washington, DC) — One word: SPEAKEASY. For cozy nooks and romantic evenings, look no further than The Alex Speakeasy for all your live jazz and Gatsby-inspired drink needs.
"GATSBY!" you say?! Yup. The Alex has an Old Forester Prohibition Bourbon, Carpano Antica, port, and plum bitters drink that pays homage to the fictional literary legend.
Address: 1075 Thomas Jefferson St NW, Washington, DC 20007
Rooms starting at: $235+
Source: BuzzFeed
---
Top Five Washington, D.C. Speakeasies
The Alex
– Located in Georgetown, this hideaway bar is a gem.
It's tucked away behind a gray door that looks like it's protecting a secret vault or maybe just a supply closet. You'll make your way down a few steps until you reach a quaint bar that's reminiscent of something out of a classic mob movie.
Bartenders at The Alex are friendly, and the drinks are great. You can even get a gin and tonic served in a tiny bathtub — a nod to the troughs bootleggers once used to concoct their elixirs. If none of the cocktails on the menu tickles your fancy, the mixologists are more than happy to make a custom drink to your liking.
Oh, and the menu is printed as a newspaper. Super creative.
Source: USA Today
---
16 Best Hotels in Washington D.C.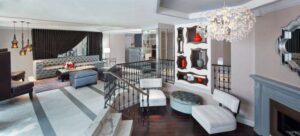 Formerly the Monticello, the Graham underwent a complete overhaul in 2013, firmly situating it as one of Georgetown's buzziest boutique hotel options. The 57-room hotel has a lobby that reads more like a social living room: there's a mix of comfy seating and a fireplace, both of which invite you to stay for awhile. The rooms are large as-is, but half are suites. They're decorated in handsome hues of taupe and grey, with upmarket touches like chic patterned wallpaper and linens from Liddell, Ireland. Bathrooms are big, too, with marble walk-in showers or luxurious soaking tubs. Even for non-guests, The Graham is a Georgetown hotspot, with a 3,000 square-foot rooftop space and the swanky subterranean speakeasy The Alex.
Source: CN Traveler
---
The Historic Hotels of America 2020 Top 25 Historic Hotels for a Romantic Proposal Announced
The Graham Georgetown, Tapestry Collection by Hilton (1962) Washington, DC
The rooftop at this historic hotel has hosted many engagements. At eight stories tall, the rooftop has stunning views of the Rosslyn skyline, Georgetown University Cathedral and sunsets from the West Terrace of the Rooftop, as well as the federalist architecture for which the neighborhood is renowned. The Graham makes it easy to host a memorable romantic evening. The Alex Speakeasy is widely regarded as one of DC's most intimate dining experiences and the catering team will help keep proposals a surprise and work with guests to plan a customized event for friends and family to celebrate this once in a lifetime occasion. All this with the backdrop composed of DC's first neighborhood, steeped in history, romance, and intrigue.
Source: BusinessWire
---
The Best Speakeasy-Themed Bars in DC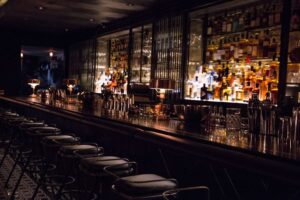 The Alex – Georgetown
The cellar of Georgetown's Graham Hotel houses The Alex, a "speakeasy" with mentions of prohibition printed across its newspaper-themed menu. It advertises its cocktails as coming from "farm-to-glass," (so hip!) and using fine ingredients and booze. Try a simple Brown Derby with bourbon, lemon and honey or opt for an original creation like the Brujeria with mezcal, Calvados, dry Curaçao, Madeira wine, saffron dark chocolate and walnut bitters and applewood smoke. This is the spot for a true DC power tipple.
Source: thrillist
---
Where To Stay In Washington, D.C.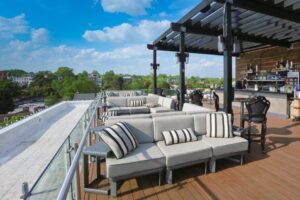 The Graham Georgetown
With just 57 rooms and suites, the Graham is a smallish boutique on Thomas Jefferson Street in Georgetown. It, too, is geared to college visits and not just to Georgetown itself—Washington has a clutch of more than twenty institutions of higher education, including Howard, Gallaudet and George Washington, with many of them clustered in or around Georgetown. The Graham is part of the Hilton chain and as such has a spiffy rooftop bar and lounge in the Observatory, and its downstairs restaurant, Alex, is built around craft cocktails and light dining.
Source: Forbes.com
---
13 Essential Speakeasies Around D.C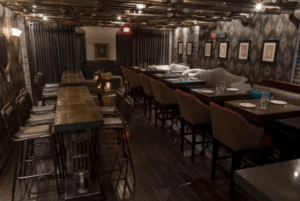 13. The Alex
Hidden beneath Georgetown's Graham hotel, this swanky enclosure is only accessible by a typed code, given to guests upon arriving for their reservation. Live jazz fills the air on weekends, while bartenders whip up drinks including gin-and-tonics served in tiny porcelain bathtubs, sake-vodka coolers, and a cure-all ginger/honey/Scotch concoction dubbed "Penicillin."
Source: Eater