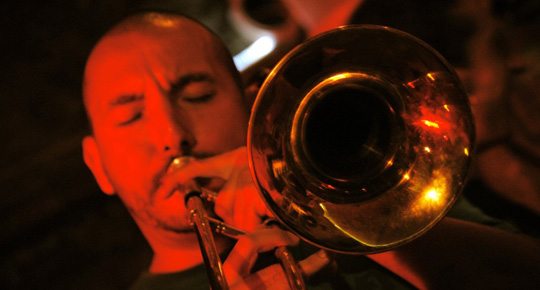 The free-form American genre of music known as jazz is an integral part of Washington DC's cultural history. The district's most notable contribution to the world of jazz comes from hometown legend Duke Ellington. The all-time great pianist and composer brought DC acclaim and recognition within the jazz world, inspiring other greats to visit the District.
DC's jazz legacy lives on today in an array of exceptional live music venues, each of which offers a slightly different take on this American classic.
Blues Alley
A short walk down the alley from the Graham Georgetown Hotel, Blues Alley boasts one of the most star-studded lineups of past performers in the annals of American jazz. Some of the major players who've graced this Washington DC jazz club with their live tunes include: Ella Fitzgerald, Tony Bennett, Roy Eldridge and Dizzy Gillespie. On top of the club's previous accolades, this historical jazz club in DC continues to impress visitors with its intimate lounge and top of the line performers most nights of the week.
Blues Alley
1073 Wisconsin Avenue NW
Washington, D.C. 20007
www.bluesalley.com
Bohemian Caverns
Before 1950, DC's U Street Northwest was one of the most well-known jazz hot spots in the country. Right in the heart of it all, the Bohemian Caverns continues to bring great jazz music to the same stretch of road. An impressive venue in Washington DC with its own resident jazz orchestra, Bohemian Caverns is a must visit for any jazz enthusiasts during a stay in DC.
Bohemian Caverns
2001 11th Street NW
Washington, D.C. 20001
www.bohemiancaverns.com
Twins Jazz Club
Twins Jazz Club's sister-club, Twins Lounge, opened as an Ethiopian restaurant in 1986. Featuring jazz music a few nights a week, the popularity of the venue soon blossomed and it became one of the best known jazz clubs in the city. The lounge closed in 1999 but re-opened in 2000 as Twins Jazz Club, continuing its excellent tradition of hosting top-tier jazz acts in an impeccable atmosphere. Also located on U Street, Twins Jazz Club is another spot to relive the amazing history of jazz in DC.
Twins Jazz Club
1344 U Street NW
Washington, D.C. 20009
www.twinsjazz.com