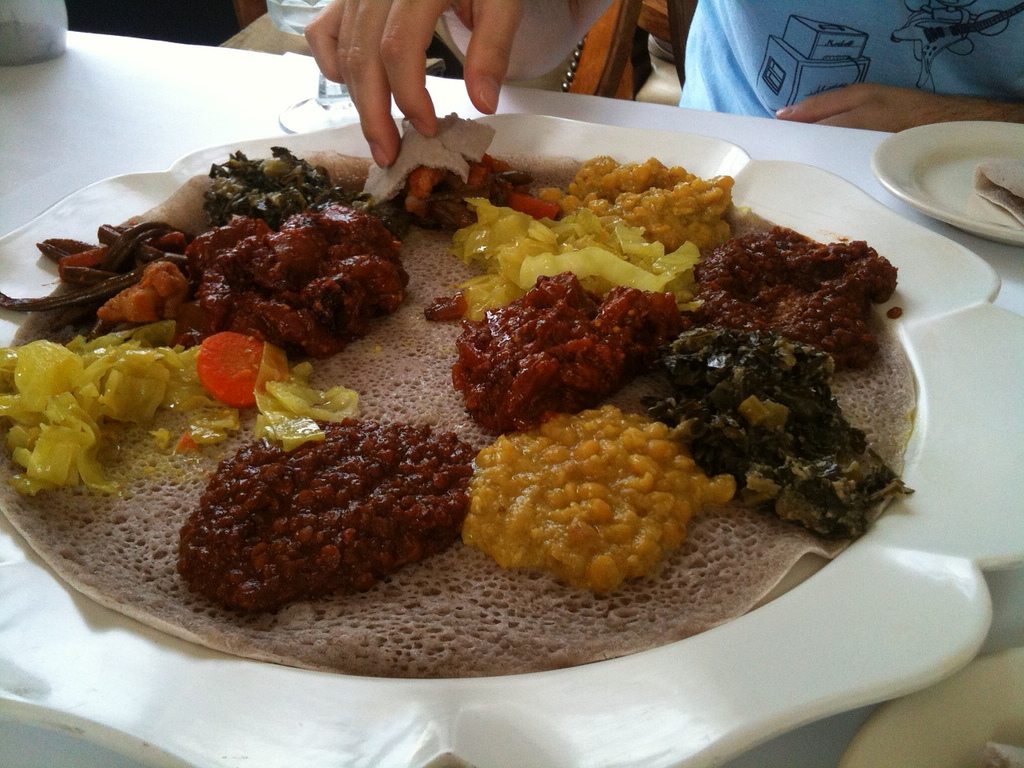 After a day of shopping on M street and taking in historical sites along the Potomac, indulge in some of the best international meals Georgetown have to offer.
DAS ETHIOPIAN
Formerly known as Zed's, this establishment has served flavorful Ethiopian cuisine in an elegant setting for 20 years. DAS serves seasoned vegetables, meats and stews with soft, spongy injera bread.
If you've never tried Ethiopian cuisine before, try the vegetarian or meat sampler where you can taste a variety of what DAS has to offer. You'll get dishes like their Chicken Doro Wat, a spicy chicken in red pepper sauce, or their stewed collard greens flavored with garlic and onion. For the full Ethiopian experience, use the bread and your hands as utensils.
CHING CHING CHA
This quiet little tea shop tucked away at the beginning of Wisconsin Avenue offers a respite from an always bustling M street. Ching Ching Cha also serves over 70 types of teas and simple Chinese dishes to pair them with.
If you are looking for something light, try one of their dumplings or tea meals—which consist of 3 vegetables of your choosing. We recommend the kale in sweet soy sauce and cabbage with vinegar dressing. For something more substantial, try the mustard miso salmon. They also serve mochi— a sticky rice cake—pineapple square cookies, and other traditional Chinese desserts.
LA CHAUMERIE
This French restaurant has been a gastronomic staple in Georgetown for 40 years. Walking in you are transported to a quaint inn on the French countryside with copper pots and pans lining the walls and arched ceilings with wooden beams hanging high.
For starters, try the onion soup and escargot—both seasoned to perfection. For the main course, you can't go wrong with a lamb shank that is melt-in-your-mouth tender.
BODEGA SPANISH TAPAS
Bodega is a vibrant restaurant and lounge on M street that serves savory Spanish tapas and sangria. Its chic red and black motif sets the mood for date night and the small plates are perfect for sharing. If the weather is nice, take advantage of their outdoor patio to soak up the sun like you're in Madrid.
Some of our favorite dishes include the shrimp sautéed in garlic, jamón Serrano with Manchego cheese and the seared tuna with caramelized onions.
MAI THAI
Conveniently located near Georgetown's campus, Mai Thai has a steady crowd throughout the day. They serve all of the popular Thai dishes like tom kha (coconut) soup, massaman curry and green papaya salad. The pad Thai is tangy and sweet with just a little bit of a kick and the portions are sizable.
Our favorite item on the menu is the sweet and creamy Thai Ice Tea—perfect for a midday pick-me up.
image via flickr