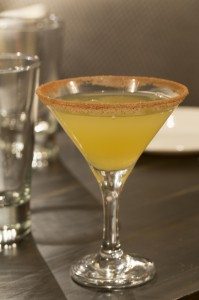 Springtime is finally here, which means we can say farewell to oversized parkas and hello to our beautiful open air rooftop bar, The Observatory. Here, guests can enjoy al fresco cocktails but if you are in the mood for a more speak-easy vibe, grab a drink at The Alex, which pays tribute to the iconic inventor Alexander Graham Bell. The Alex fascinates guests with its steampunkdesign and its delightful craft cocktails. Make a toast to the season of outdoor dining with one of these innovative cocktails that could have inspired the telephone itself.
The Blind Tiger
Keeping with the vintage vibe of the bar, The Blind Tiger combines Wigle's Ginever—a Dutch-style gin—with the classic flavors of Luxardo Maraschino, Pimms Blackberry Elderflower, and cucumber. This crisp, fruity blend of berries will go perfectly with Spring's warm weather.
Spiced Strawberry Mule
A Moscow Mule is always a very clever idea. The classic mix of vodka and fiery ginger beer is perfect for those who don't have a taste for straight liquor. The Alex has taken their own spin on this bar standard by using strawberry-infused Absolut Elyx. This sweet note will play complement the sunny nature of the season, and will balance the spice of the ginger beer.
Mabel's Martini
The tall, slim martini is the most sophisticated of drinks, and this rendition from The Alex is dedicated to another elegant dame: Alexander Graham Bell's longtime wife, Mabel. With Domain de Canton, a stellar craft gin, and Campari, this citrus cocktail has the class of Georgetown with the zest of spring all in one.
The Grammy
Another take on a martini, The Grammy is a Graham-invented cocktail that's truly spectacular. Russian Standard vodka and Dolin dry vermouth are shaken together with a surprising third ingredient, the semi-dry pineapple wine Maui Blanc, for a tropical swill.
For more options and information on our new bar and lounge, check out The Alex here.