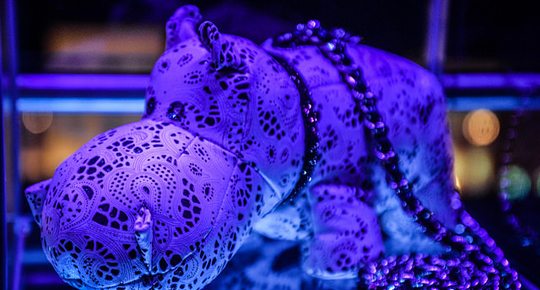 For any adults out there who have ever suffered from mild Peter Pan syndrome, a small part of childhood joy is now being manufactured specifically for you and it appears to be fashion forward. Ploosh is a line of high end animal purses and they've become pretty popular. These leather, bedazzled accessories look like tricked out versions of the soft, worn out stuffed animals that sat atop many of our childhood beds. Ploosh is fashion, it's sophisticated and several Ploosh toys including the limited edition Graham Hippo made special for the Graham Hotel are available for purchase at Reddz Trading in Georgetown, DC.
Just a short drive from the Graham Georgetown, Reddz is a resale store that specializes in purchasing and selling high-end fashion. This is a great place to find some obscure, special and attractively priced clothing. It's also the home of the leather fashion statements marrying nostalgia with progressive trends.
The Ploosh catalogue has a large variety of hippos and elephants with a plethora of names including Antoinette, Florence, Pearl and Gloss the Burgundy Elephant. Each toy is wrapped in a variety of world-class Italian leathers and various golds, metals, silvers, crystals, etc. With the Ploosh Downtown retail location being in Georgetown, the connection with this movement and the Graham Georgetown runs on an enthusiastic, neighborly vibe. The Limited Edition Graham Hippo came as a wonderful compliment, as Ploosh created this toy to celebrate the Graham Georgetown. The inspiration behind this particular Ploosh can be read on their website in a lovely write up, which also comments on Graham's Observatory rooftop bar and lounge along with our restaurant, A.G.B.
Having been all the rage at various fashion weeks that have recently taken place across the country, there's clearly something to be said about and seen in Ploosh. During your stay at Graham, it'll be worth the trip over to Reddz Trading to see what all of the hype is about and do some shopping or selling. We're proud to send our guests over to Ploosh, Georgetown.