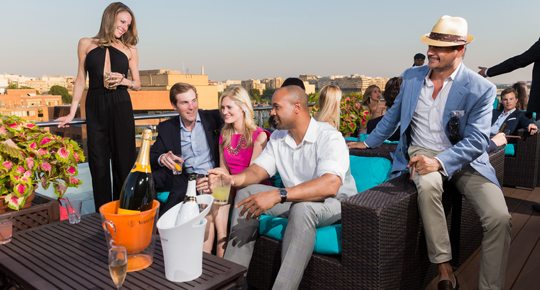 Your friends and family will no doubt be impressed when you take them up top to the gorgeous Observatory roof bar and lounge at the Graham with its sweeping, panoramic views of Georgetown. Follow that with an elegant dinner in the steampunk dining room at the Alex, and you'll look like you've found a local treasure. Now, to really appear like you know what you're doing, be ready to order for the table with these can't-fail cocktails and appetizers.
THE DRINKS:
Sparkling Watermelon at the Observatory
For anyone with a sensitive, fruity palate, go ahead and suggest the Observatory's premier hand crafted cocktail—Sparkling Watermelon. The vodka-based drink is lightened with elderflower, rosé, and its eponymous ingredient.
Bourbon Shandy at the Observatory
For anyone who has a taste for more rich and hearty cocktails, suggest the Bourbon Shandy. The whiskey base will please that darker thirst, while summer shandy, ginger, and orange will add a citrus tang that goes oh so well with a sunny day in Georgetown.
THE APPS:
Jumbo Lump Crab & Artichoke Dip at the Alex
You don't have to be a genius to try crab during your stay in Washington, DC. The crustacean is a local institution. Our restaurant and lounge, The Alex, serves up the neighborhood treasure in a meaty artichoke dip made with parmesan cheese and served with crispy pita chips.
Shrimp and Pineapple Bites at the Alex
Another can't-miss appetizer to order for the table is The Alex's plate of shrimp and pineapple bites. The sweet acidic pop of pineapple bits coated in teriyaki sauce along with hearty bites of shrimp wrapped in Applewood smoked bacon are sure to leave you and your fellow diners wanting seconds.