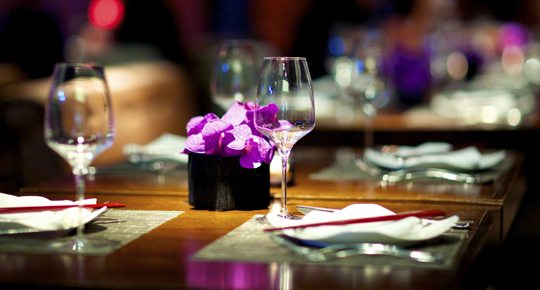 Valentine's Day is quickly approaching, which means everyone in town — locals and visitors alike — is on the hunt for a reservation at one of the most romantic restaurants in Georgetown.
We've put together a guide to the best date night restaurants in Georgetown — read on to find the perfect place to celebrate your love.
The Alex
Our onsite lounge and dining room provides an ideal setting for a romantic dinner. The clean "steampunk" aesthetic creates an air of modernity and sophistication while fine wines and cocktails like the spiced strawberry Moscow mule take the edge off. On a romantic evening where guests feel like they just want to stay in, an elegant dining experience is still within arms reach at The Alex.
The Alex
1075 Thomas Jefferson St NW
Washington, DC 20007
Filomena Ristorante
Filomena is one of the best-known Italian restaurants in all of Georgetown. The ambiance of the dining room matches the quality of the food, which is imbued with classic Italian flavors and traditional preparations. Filomena is a great date night destination, whether you're celebrating Valentine's Day, an anniversary, or any other relationship milestone.
Filomena Ristorante
1063 Wisconsin Avenue NW
Washington, D.C. 20007
Unum
This contemporary restaurant is new to Georgetown and an absolutely wonderful addition to the neighborhood. The restaurant itself operates as a paean to the power of love, as Executive Chef Phillip Blane operates Unum alongside his wife and co-owner, Laura Schiller. From Unum's Braised Indian Spice Lamb Shank to its sweet Blueberry Sangria, Unum boasts an undeniably impressive food and drinks menu.
Unum
2917 M Street NW
Washington, D.C. 20007
Bodega
Tapas is always an excellent choice for an outstanding date night. Each place it shareable, and Bodega's small plates are absolutely splendid. Bodega in DC has an excellent collection of tapas offerings, including menu favorites like Sauteed Calamari over Squid Ink Rice and Crispy Dates wrapped in Bacon. Swing by Bodega this Valentines Day and enjoy the splendor of one of the most romantic restaurants in Georgetown.
Bodega
3116 M Street NW
Washington, D.C. 20007
1789 Restaurant
A Georgetown favorite, 1789 Restaurant is a consistently popular Valentine's Day date destination. Make sure to get reservations early if you want to take your date here. The options are of the highest and most flavorful quality. From the Day Boat Scallops to the Aged Ribeye, you can't go wrong eating at 1789. In addition to the wonderful food, the quaint interior and superior staff truly transform this establishment into one of the most romantic restaurants in Georgetown.
1789 Restaurant
1226 36th Street NW
Washington, DC 20007