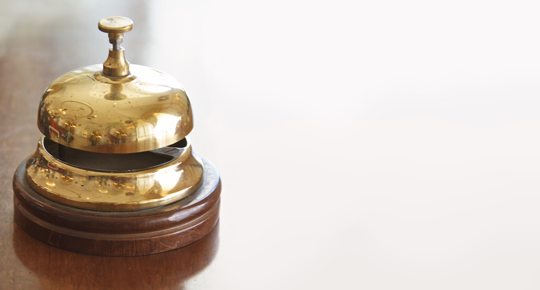 While the concierge at a hotel is always prepared to offer guests tips on great places to dine and enjoyable things to do, at the Graham Georgetown, that knowledge extends through every member of our staff. Tap into this wealth of local wisdom and chat with other members of the team, such as Cherrod Cook. Graham's Front Office Supervisor and Chief Concierge has shared with us his favorite local places to eat, in order to inspire visitors long before they arrive.
Ristorante La Perla
Located less than half a mile from the Graham Georgetown Hotel, Cook's first recommendation is a classic Italian eatery. Ristorante La Perla serves up rich, authentic fare for both lunch as well as dinner, Perla's strengths lie in their expansive offerings and fresh ingredients: Chef Vittorio Testa's team makes fresh pastas in-house, like the potato gnocchi with marinara, mozzarella, and parmesan. Dried pastas, such as penne, are sourced directly from Italy.
2600 Pennsylvania Avenue, NW
Washington, DC 20037
Farmers Fishers Bakers
One of the most unique restaurants in Washington is Farmers Fishers Bakers: a bakery, sushi spot, bar and restaurant all joined under one roof. Their fresh, farm-to-table approach is both a source of local pride as well as a major draw for visitors eager to taste D.C.'s culinary scene. The sushi menu is unabashedly unconventional. It features progressive tasting plates such as scallop ceviche and citrus salmon. Another favorite Farmers Fishers Bakers dish is one of their varied mussel pots. The menu spans many global cuisines, and pleases a diverse crowd with everything from pizza to open-range meats and jambalayas.
3000 K Street NW
Washington, DC 20007
Co Co. Sala
Winner of Open Table's 2014 Diners' Choice Award, it's clear that our Chief Concierge isn't the only one who loves Co Co. Sala. Their innovative, artisanal menu sources seafood and fine cheeses for a decidedly southern American meal. Begin with the shrimp crostinis (prawns glazed in wine and cider) before indulging in the Prawns & Grits, finished with jalapeno creamed corn and a cocoa-baked biscuit. After dinner, check out Co Co. Sala's chocolate boutique, stocked with an impressive variety of homemade artisanal bars and sweets.
929 F Street NW
Washington, DC 20004