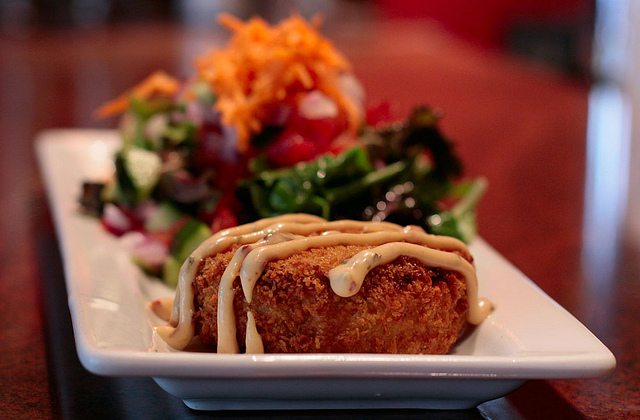 Crab cake is the signature dish of both Maryland and Washington, DC. Like barbecue in Kansas City, pizza in New York, or clam chowder in Boston, it's a must-have for all travelers. The tender-sweet crustacean clumped up in a ball with breadcrumbs and choice ingredients is best enjoyed at one of these restaurants.
FIOLA MARE
This Italian-seafood champion goes all in with its take on the local delicacy. Mixed with shaved celery root, a spicy salsa verde and fried capers, Fiola Mare's jumbo lump crab cakes balance many flavors into one delighfully hearty crunch.
CLYDE'S
Clyde's has spots around DC and Maryland, and its flagship is located here in Georgetown on M Street. The thick and crispy crab cakes go best on a potato roll with tartar sauce and coleslaw thrown on top.
OLD EBBITT GRILL
The longest-standing saloon in Washington, DC, Old Ebbitt Grill has had over 150 years to perfect its crab cakes. Its recipe (available online) uses a simple combination of locally-sourced jumbo lump crab meat, mayo, Old Bay, dijon mustard, chopped parsley, and saltines.
HANK'S OYSTER BAR
Another juggernaut seafood destination in DC, Hank's Oyster Bar does a griddled crab cake that, to most eaters' delight, shuns any fillers besides crabmeat itself. Garnished with some house-made-mayo slaw, this favored rendition comes as a small plate, dinner, or base for brunch-favorite eggs benedict.
GRILLFISH DC
This restaurant's grilled crab cake melt takes DC and Maryland's favorite dish to a whole new level. Plump cakes with plenty of breading are complemented by gooey cheddar and creamy tartar sauce. They're sinful but oh-so heavenly.
image via flickr