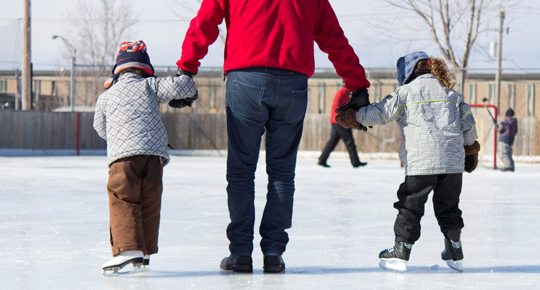 This winter, take time to enjoy the ice skating in Washington D.C. It's a perfect excuse to get out of the house, spend time with family and exercise.
The Washington Harbor (3000 K Street NW) is the largest ice skating rink in Washington D.C. With nearly 11,800 square feet of rink, it's a skaters' paradise. The rink opens in mid-November and is the perfect winter activity! Tickets for the rink are $10 for adults and $9 for children, skate rental is $5.
The National Gallery of Art (6th and Constitution Ave NW) skating rink is open from November 14, 2014 until March 2015. One of the best aspects of this rink is they offer skating lessons for all ages! For the littlest of skaters (from ages three to six), they offer beginner classes that cover the basics of balance, marching and gliding). The coolest thing about this rink is that it's surrounded by sculptures created by preeminent modern artists of our time such as Louise Bourgeois, Alexander Calder, Roy Lichtenstein, Claes Oldenburg and Coosje van Bruggen.
The Canal Park Ice Rink is located at 2nd & M street SE. Canal Park is part of the new Capitol Riverfront neighborhood. The rink is $8 for adults and $7 for children under 12.
All of this ice skating is the perfect complement to a cup of hot cocoa. We have a few favorites in that department. (Would you expect anything less?) The Sweet Lobby (404 8th St SE) on Barracks Row serves delicious macaroons and cupcakes as well as a delicious European style hot chocolate. Fun fact: this famed local bakery was featured on the Food Network's Cupcake wars.. If you don't want a traditional hot chocolate, try an Afffocato at Kafe Leopold (3315 Cady's Alley NW) in Georgetown. This delightful drink is 2 scoops of vanilla bean ice cream and espresso topped with a Breton cookie. If you are the kind of person that doesn't always like it hot, give Co co sala (929 F. St. NW) a shot.This chocolate boutique lounge and restaurant knows their chocolate and =has a host of chocolate specialty drinks. We love the option of either hot or frozen chocolate drinks which include dark chocolate, salted caramel and even chipotle. Feeling adventurous? Try a co co cupcake chaser which is a chocolate cupcake injected with your choice of liqueur!