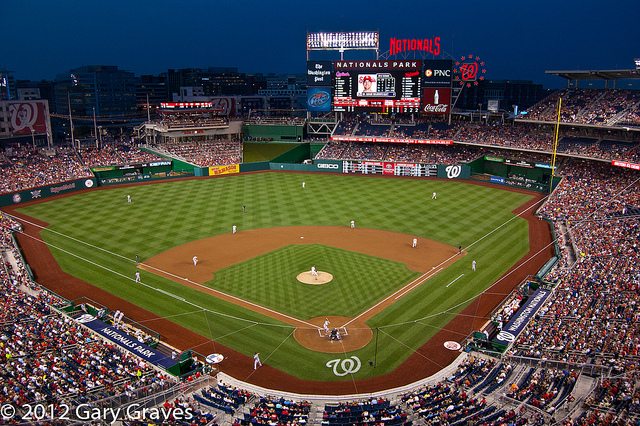 10 Reasons to go to a National's Game
In Washington, DC for only eight years, the Nationals are a great baseball team currently fighting to win the National League East. With an impressive lineup of young stars and a seriously awesome stadium, there are plenty of reasons to go to a Nationals game. Here are 10 of those reasons.
NATIONALS PARK
In its eighth season as home to the Nationals, Nationals Park is a baby amongst baseball stadiums across the country, some of which are over 100 years old. State of the art amenities, comfortable seats and great concessions make this an easy spot to enjoy a ball game.
THEME GAMES
In line with the young, hip identity behind their ballpark, the Washington Nationals are hosting several themed games this season for a little extra fun in the stands. Pet Day and 80's Night in August are just a couple of the many themed nights worth checking out at Nationals Park this summer.
BRYCE HARPER
This young phenom is arguably the most well-known and talked about player on the Nationals. A mammoth uppercut swing that produces a lot of homeruns, fearless diving plays in the outfield, and a general tenacity that always keeps things interesting, Bryce Harper is a sight to see.
BEN'S CHILI BOWL
With the original location on DC's iconic U Street, Ben's Chili Bowl is a must try for all out of towners. Kill two birds with one stone and enjoy one of Ben's sumptuous chili dogs right here at the park while catching a baseball game on a warm summer evening.
STEPHEN STRASBURG
If Bryce Harper is the young, spectacular batter to see at National's Park, Stephen Strasburg mirrors that prestige on the mound. The tall flamethrower was one of the National's first major investments as a new team, and he endures as one of the most powerful pitchers in the game.
CHESAPEAKE CRAB CAKE COMPANY
Another concession stand that brings the local cuisine to the stadium, the Chesapeake Crab Cake Company lets fans taste the region's most famous food: crab. Try one of their famous crab cakes or be bold and go for the crab grilled cheese.
MAX SCHERZER
Recently acquired from the Detroit Tigers, Max Scherzer is one of the most electric pitchers on the Washington Nationals. Whether you're familiar with baseball or not, watching him dominate another team is always an awe-inspiring experience.
TICKET PRICES
With tickets as low as $12 available every night, it's easy to pop in for a game at Nationals Park without burning through your travel funds.
EASY TO GET TO
When you're visiting a new city, driving around looking for places can be a pain. Nationals Park is super easy to get to by the metro, the Circulator bus, and even a water taxi. Fun and convenient? Definitely worth the visit.
IT'S AMERICA'S PASTIME
Guess what, if you're in Washington, DC, then you're in our nation's capital. Since baseball is America's pastime, there's no better way to be patriotic than to head over to the ballpark and hang out for nine innings of Nationals baseball.
Cover image via flickr creative commons.