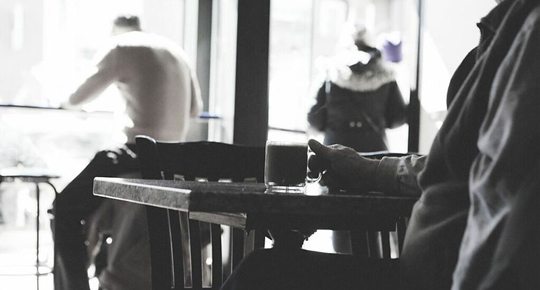 Established as the nation's capital, Washington, DC has been an historic destination from the get go. On a plot of land where the founders and architects of this epic country took their drinks, and their meals, the establishments that attracted them are poised to live in one way or another forever. Still plugging away, there are a few astonishingly old destinations where conversations happened that forever changed the course of human history. A lifestyle tour of our nation's forefathers, here are some of the oldest bars, restaurants and destinations in DC.
Round Robin & Scotch Bar
A hotspot for politicians and literary behemoths since the mid-1800's, Round Robin & Scotch Bar is quintessential American class. Patrons can sit in the same spot as Mark Twain, or Abraham Lincoln will nursing a mint julep and listening to the bar's history from longtime barman and storyteller, Jim Hewes. Located off the lobby at the Willard Hotel, Round Robin has long impressed from serving presidential candidates in the 1800's to earning the title of one of the Best Bars in America, by Esquire in 2013.
401 Pennsylvania Ave NW | Washington, DC 20004
Old Ebbitt Grill
Said by many to be Washington, DC's oldest saloon, The Old Ebbitt Grill began as an inn with a bar in 1856. Roosevelt, Harding, and McKinley are just a few of the presidential figures who talked shop and sipped liquor at the Ebbitt's original stand around bar. Over the years, the bar and restaurant has changed size, shape, location and ownership quite a few times. What's maintained, are the relics and atmosphere of an institution that the city of Washington was never able to say goodbye to. Today, Old Ebbitt is an exceptional bar, restaurant and historical landmark. From smoked salmon crostinis to high end cocktails to raw seafood platters, Old Ebbitt's food and drinks are as good as ever.
675 15th St NW | Washington, DC 20005
Home of the Commandants
According to the official website of the United States Marine Corps, "the Home of the Commandants has been home to all but the first two commandants, and is said to be the oldest, continuously occupied public building in Washington, DC." The 8th & I Marine Barracks' location was chosen by President Thomas Jefferson and the country's second ever commandant of the Marine Corps, Lt. Col. William Ward Burrows. Now a timeless and active home for military leaders, the Home of the Commandants is about as far back as an historian, or a tourist can go into DC history. Over 200 years old, this magnificent institution is a historical gem that sidesteps the more obvious and well known landmarks of the National Mall.
Marine Barracks
8th & I Streets SE | Washington, DC 20003