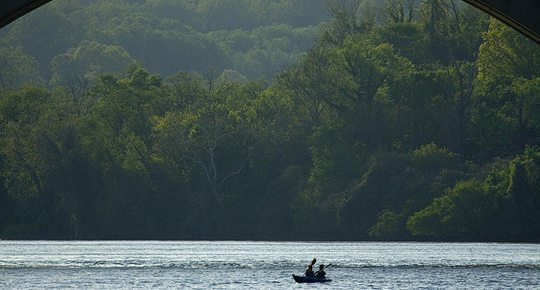 The Georgetown and Washington DC area is blessed with dynamic and scenic access to several bodies of water. Georgetown, in particular, boasts access to the Chesapeake and Ohio Canal, whose calm currents are ideal for enjoyment. Those looking to have an experience floating atop these waters have a wealth of options from chartered boats to various paddle sports. One of the favorite and most exciting ways to explore the water and checkout DC is by renting a kayak and paddling yourself around for a physically exerting and visually pleasing day out. To help guide the search for the best kayak rentals available in the DC area, we've compiled a list a few of our favorite places for Georgetown kayaking.
Atlantic Kayak
This revered company offers a great variety of kayaking experiences and opportunities. Classic rentals are available for those looking to explore on their own. Atlantic Kayak also provides guided tours of Piscataway Creek and Georgetown. The creek runs across the river from George Washington's world famous Mount Vernon Estate. In addition to this historic positioning, Atlantic Kayak also offers a variety of kayaking trips ranging in length, time and enticing destinations.
Thompson Boat Center
The Thompson Boat Center is a popular paddle sport business in Georgetown. Located just by Rock Creek Parkway, this center rents out kayaks, canoes and bicycles. A popular spot for various crew teams and regattas, the more competitive side of paddle sports can be accessed and explored with Thompson Boat Center. Their rowing lessons are proven opportunities for individuals to get more comfortable and able while out on the water.
Potomac Paddlesports
In the interest of providing readers with some different waters to explore, the Potomac River is also accessible from Georgetown. Potomac Paddlesports offers a kayak school, which can be utilized for lessons, trips, skill clinics and more. The serene beauty of the Potomac is an absolutely breathtaking site and there aren't many ways to enjoy our nation's capital then from the river's vantage point.
So, while there is much to see on the ground in Georgetown and DC, visitors cannot forget about the water. It's fun, natural and gorgeous.