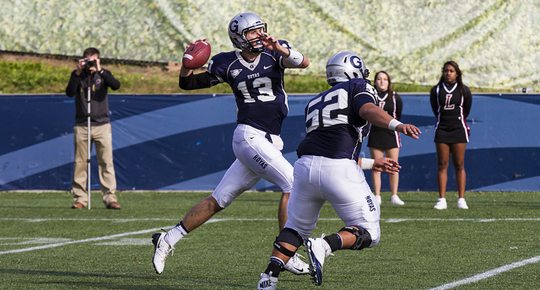 A nice visit to Georgetown in the autumn season comes with several pleasantries. The cool brisk air welcomes a new year to all Georgetown University students as they gear up for an exciting academic season. The weather also makes for lovely outdoor activities and visits to many of Georgetown's beautiful parks. For those who want to put the two together and attend a truly American fall tradition, the best of both worlds is realized at Georgetown University football games.
The Hoyas boast an all around respectable and celebrated athletic program. Despite coming off a rough season in 2013, the Georgetown football team maintains the status of a competitive Division 1 program. Their schedule is also packed with exciting competition, so attendees can be sure to witness some of the nation's most electrifying young talent.
This year's docket is no exception. The Hoyas football team has a challenging road ahead of them with games scheduled against storied programs such as: Harvard, Bucknell. Brown and Marist. Several scattered weeks from the end of August through the middle of November, the Hoyas will take the field in front of a home crowd to bring some exciting and titillating competition to Georgetown.
Attending a Georgetown Football game is an exciting way for parents and students to acclimate and familiarize themselves with the Georgetown scene. For tourists, it's a wonderful, family-friendly way to spend a day and interact with locals in an exciting fashion. Either way, if you find yourself in Georgetown this fall, attending a football game is definitely worth taking into consideration. As the town rallies behind their sole football team, the country will all be watching their local schools make pushes for winning seasons. Going out to the game is more than just something to do, it is participation in a patriotic tradition.