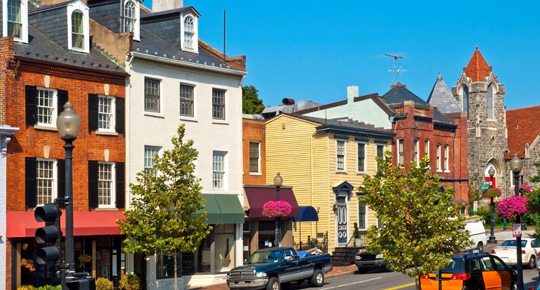 Once school comes back in session, Georgetown really does come alive. Here's our guide to the best Georgetown Fall activities!
Don't miss the Taste of Georgetown on September 13 from 12:00 p.m. – 5:00 p.m.. Over 35 of Georgetown's premier restaurants will offer samplings of their food at the festival, which runs along K Street between Wisconsin Avenue and Thomas Jefferson Street ( right down the street from The Graham Hotel.)
Post festival, stop by our rooftop bar, The Observatory, at The Graham Hotel. We are celebrating the Taste of Georgetown with a happy hour – the perfect place to have a drink and enjoy the views of the city and toast to Georgetown!
In celebration of Oktoberfest, don't miss a host of beer related events in and around D.C. throughout the month of September. We're looking forward to Snallygaster D.C. (how great is that name?) – a beer filled jamboree that takes place on September 13 at The Yards (355 Water St SE). The celebration lasts from 1:00 p.m.-6:00 p.m. and features over 250 different kinds of craft beers. There will also be an array of food and entertainment as well. Enjoy quality eats from Takorean BBQ, Tasty Kabob and D.C. Slices to name a few.
For those with a passion for fashion, don't miss Fashion Art Design on Saturday October 25, a celebration of the local fashion trailblazers and local boutiques in Georgetown. They're still finalizing the event schedule but definitely be on the lookout for great deals, pop-up shops and soirees.
If you're looking for fall sports action, nothing is better than a jam-packed Georgetown football game, a classic Georgetown Fall activity. The Hoyas boast an all-around respectable and celebrated athletic program. Despite coming off a rough season in 2013, the Georgetown football team maintains the status of a competitive Division 1 program. Their schedule is packed with exciting competition, so attendees can be sure to witness some of the nation's most electrifying young talent. This season games are scheduled against storied teams such as: Harvard, Bucknell, Brown and Marist.