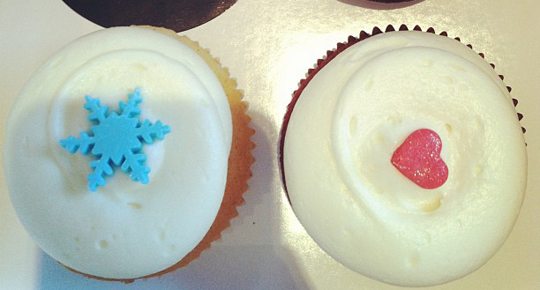 SISTERS, REALITY TELEVISION-GEORGETOWN CUPCAKE HAS SOME OF THE BEST CUPCAKES EVER!
One of Georgetown's most famous popular culture attractions is a cupcake shop. While this may seem like a random, or underwhelming attraction, a quick look into the history and reputation of Georgetown Cupcake is all that's needed to insure those traveling to Georgetown that this niche bakery is a must-visit.
Katherine Kallinis Berman and Sophie Kallnis LaMontagne are sisters and co-founders of Georgetown Cupcake. Coming from a childhood learning how to bake from their Greek grandmother in Toronto, the sisters left their separate careers in 2008 to start Georgetown Cupcake. Using their own life savings to fund the business's start up was a risky move, but the rewards have been remarkable.
Georgetown Cupcake was a sensation from the start. Quickly growing in business and popularity, the girls soon had to move to a larger location. Following was an onslaught of examples of how beloved this shop had become. Georgetown Cupcake has gone on to open up locations in New York City, Boston, Los Angeles and Bethesda Maryland. Katherine and Sophie starred in the TLC reality series known as DC Cupcakes, with Georgetown Cupcake being the focus of the show. They've also authored two books— The Cupcake Diaries and Sweet Celebrations. This booming business has also been featured in The Washington Post, NBC Today Show, Cosmopolitan and more.
So, unexposed readers may wonder, what's the big deal? How could a single cupcakery gain so much attention and love? Well, they do cupcakes right. They have basic flavors known as Classics, which include flavors like chocolate and vanilla. The cake is soft and the frosting rich. The exploratory nature of their Special cupcakes also plays a large role in the allure of Georgetown Cupcake. Some fans favorite cupcakes include chocolate salted caramel, vegan apple cinnamon, peanut butter fudge and gluten-free strawberry lava fudge.
These cupcakes are simply delicious. The shop is a social institution. So, for those travelers finding themselves in Georgetown this summer, stop by Georgetown Cupcake for a desert experience unlike any other.