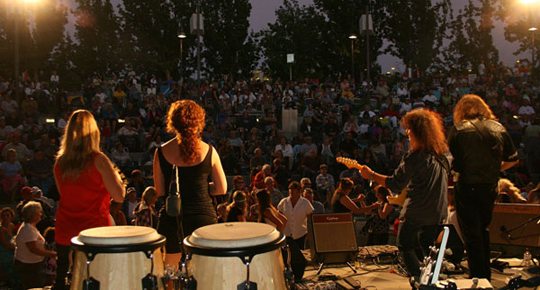 FREE SUMMER CONCERTS IN WASHINGTON DC
No matter where you are in the world, summertime evokes the desire to be outside and listen to live music. For those in Washington DC during these next couple months, there is a wealth of opportunity to enjoy these basic pleasures and to do so for free! Patriotic performances by various men and women from the military, backyard barbeques and riverfront picnics are all ways to take in a concert for zero dollars in DC this summer. Read on for our favorite examples.
For over a hundred and fifty years, concerts featuring live military bands have graced the hub of democratic commerce in the United States— Washington DC. Scattered performances by the Marine Corps, Air Force, Army and Navy bands will take place on the West Front of the U.S. Capitol Building all summer long.
These are regimented and masterful performances put on by our men and women in uniform. Those who are captivated by patriotism and live music should head out to the Capitol Building this summer to take in this one of these unique performances.
Hill Country Barbecue and Market is a Texas style restaurant that serves up some of the best ribs and brisket that anybody can find in Washington DC. They also host a summer series known as Hill Country Live that features free concerts of the Honky-Tonk, Country and Rock persuasions.
Hill Country's Boot Bar Stage will host the events for the next couple of months nearly every night. With a warm outdoor atmosphere, tasty-delicious barbecue and live music performances, you really can't go wrong in checking out Hill Country Live.
This summer concert series will hold free concerts every Friday night this summer at the beautiful and unique Yards Park located directly on the Anacostia River. Rockin' on the Riverfront promises to provide wonderful summer experiences with a variety of musical acts. From reggae performances to 90's cover bands, there will a lot of easy going happy tunes for families, locals and tourists to enjoy.
Attendees are also encouraged to bring food and picnic for these free live concerts. For those looking to catch a buzz, the concerts are also BYOB. With a great atmosphere and some summer themed fun, check out Rockin' on the Riverfront.