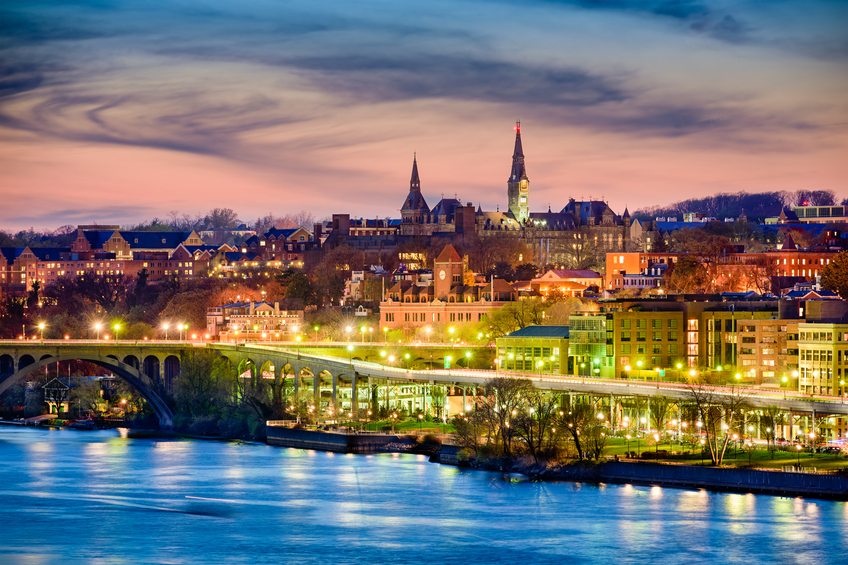 Given Georgetown's bustling tourist scene, it's hard to think of this neighborhood as undiscovered. But check out our tips below for some off-the-beaten-track spots, including a labyrinth and secret garden:
GEORGETOWN LABYRINTH
This particular Georgetown secret hides in plain sight. The bustling waterfront area of Georgetown also happens to have a mini-labyrinth constructed from colored tiles, where you can team up with friends and take on the winding pathways.
EL CENTRO
Sure, you might have seen this Mexican restaurant's Wisconsin Avenue storefront, but did you know it also has a sprawling back patio, where you can sip margaritas at the outdoor bar? Come here on a weeknight for one of the Georgetown locale's weekly salsa class.
1218 Wisconsin Ave NW
MADEWELL'S SECOND STORY
You might already be a fan of the eclectic outfits on sale at this clothing store, but did you know the Georgetown location has a rotating pop-up shop on the second floor? Stop by for cool threads from local purveyors or well-known international bands.
1237 Wisconsin Ave NW, Washington, DC 20007
(202) 333-3599
SEA CATCH
This luxurious seafood restaurant, hidden away from the main M Street crossing, is the ultimate go-to for delicious fish and shellfish. Come here for a fresh dishes like king crab legs with melted citrus butter and clam linguine.
1054 31st St NW, Washington, DC 20007
DOG TAG BAKERY
Enjoy a breakfast at this Georgetown bakery staffed by disabled military veterans. You can snack on treats like homemade blueberry muffins, granola, and coffee cake along with your cup of coffee.