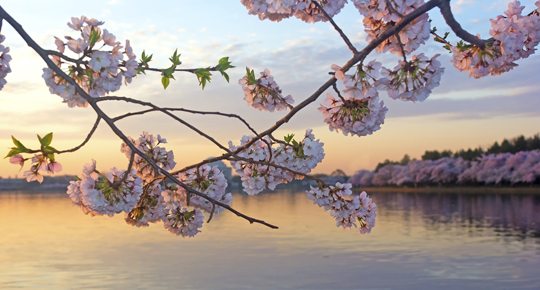 As we continue to bury our faces in our scarves and coat jackets, braving the long cold of winter, an element of incomparable and majestic beauty stands in the near future. The source of that beauty dates back more than a century to 1912 when the United States received a gift from Japan.
In a gesture of good relations, the small island nation in the far east offered up a large batch of their impeccable, locally grown cherry blossom trees. Some of them went to Manhattan, and many of the rest landed right here in Washington DC. The upcoming spring season brings about the return of their blossoms to our beautiful city.
The trees bloom around March and April, bringing Washington DC a magnificent collection of pink and white flowers adorning the tree tops alongside our most iconic landmarks. Arguably the best and most well-known location to enjoy the Washington DC cherry blossoms is right on the Tidal Basin near the Jefferson Memorial. This area is most commonly known as West Potomac Park.
The park consists of a long run and bikeway lining the mystical waters of the Tidal Basin. Along the side of this pathway sits a series of consecutive benches where visitors can sit and admire this visual staple of the National Mall. This place stands as a peaceful and visually breathtaking sight in the winter when the water is frozen an icy blue color and in the spring when the long stretch of cherry blossom trees sitting behind the benches bloom those wonderful flowers. The dense collection of trees creates a lovely picture that stretches beyond our imaginations in an atmospheric explosion of loveliness.
To explore the breadth of our cherry blossom catalogue, visitors can explore the other side of the basin where East Potomac Park sits. Filled with the wonderful pink and white, this park is a bit less populated with tourists and sightseers. East Potomac also features its own trails and golf courses. Back on the National Mall, cherry blossom trees fill the Washington Monument grounds providing a lovely visual accent to the city's most iconic destinations.
Top Washington DC Cherry Blossom Viewing Spots:
West Potomac Park
East Potomac Park
National Mall
The Graham Georgetown hotel is located within minutes of some of Washington DC's best cherry blossom-viewing areas. Learn more about our accommodations in Georgetown DC.