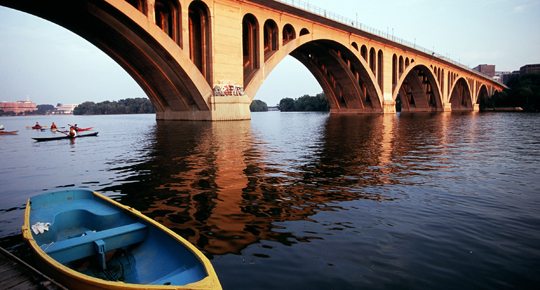 Set on the picturesque Potomac River, Washington DC holds the potential for some unique touring, sightseeing and entertainment. DC Boat Tours are a favorite amongst locals and tourists as a means to enjoy this beautiful body of water and experience the city and surrounding areas from an unusual and fun vantage point. With boat tours being a broad term with several different interpretations, we're going to show you some of our favorite tours along with their different services and offerings.
National River Tours
Captain Bill Ross started this family business in 2006. National River Tours thrives on the familial and intimate atmosphere instituted by Captain Bill. An example of this open approach can be seen on one of the regular tours on the company's motor vessel George Washington. These rides include live narrated tours by the various captains, one of whom is Captain Bill. The free Q&A and live narration offers a much more personal approach to the many tours that use pre recorded tour guides.
Boomerang Tours
Party Bus and Limo service, Boomerang Tours expanded a couple years back to encompass the wonderful opportunity created by the Potomac River. A wealth of options, this service offers Party Yacht Cruises of a variety including: Nighttime sails, sunset cruises, day parties and brunch cruises. They also offer Pirate Ship Cruises, which include family fun treasure hunts and adult pirate parties. For a great time, in the wonderful aquatic atmosphere, check out Boomerang Tours.
Potomac Riverboat Company
This family run business is the epitome of what Washington DC boat tours have to offer. From sightseeing tours to water taxis and private charters, the options seem limitless. Different themed outings include: A Washington monuments cruise, a pirate cruise, baseball water taxi and National Mall water taxi. Private charters are great for weddings, Bar or Bat Mitzvahs, corporate parties and more. To truly utilize a Potomac River experience in whatever way you desire, look up the Potomac Riverboat Company.