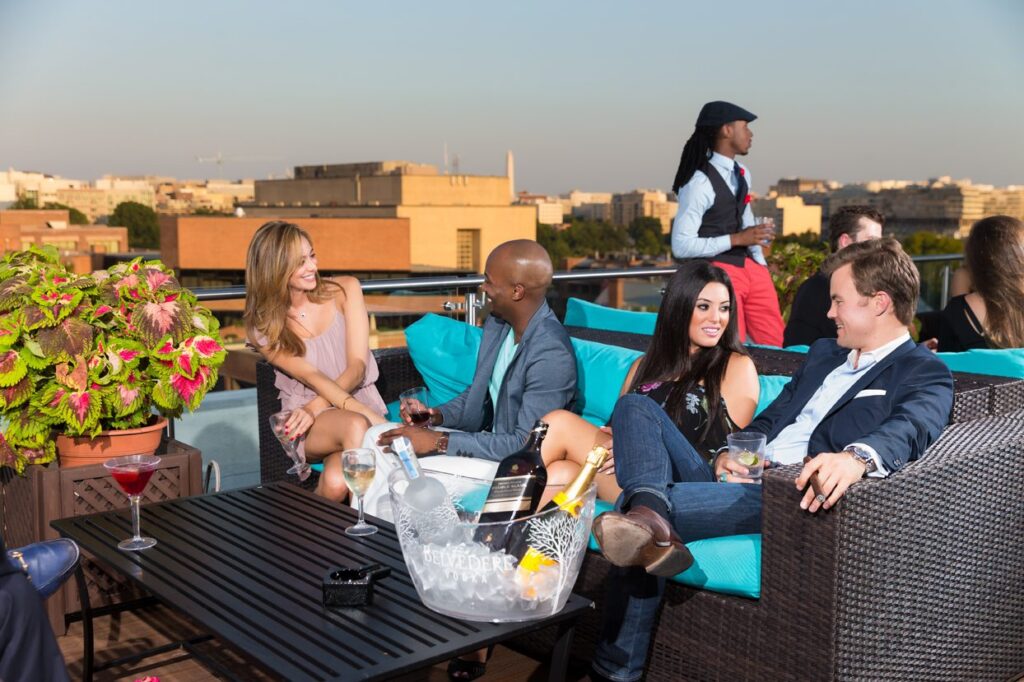 The weather is finally starting to turn, and it's time to get outside and have some refreshing cocktails. There's no better way than with some drinks and a bird's eye view of the city. Here are some of our favorite rooftop bars in Washington, DC.
With cornhole and ping pong tables, what more could you want as part of your rooftop experience? Maybe some tasty Mexican food? Look no further than H Street Country Club with its beach-themed rooftop bar. We love coming here to play a few games and while devouring the pork tacos and fried yuca.
1335 H St NE, Washington, DC 20002
(202) 399-4722
JACK ROSE
This whiskey bar in Adams Morgan gets lively in the summer with a rooftop tiki bar that serves strong cocktails. Try the Third Date—a whiskey drink made with grapefruit bitters and date syrup. There's over 2,000 bottles on the walls so if you prefer your drink straight, so spirit aficionados can take their pick. Don't worry, if there's a chance of rain, Jack Rose's retractable roof will keep you dry and partying.
2007 18th St NW, Washington, DC 20009
(202) 588-7388
BRIXTON
This English-inspired pub on the corner of 9th and U streets has plenty of dark ales and traditional cocktails. Try the Pimm's Cup, a UK favorite with lemonade and cucumber. Head here on a warm day for some fish and chips and people-watching on the open roof deck with wooden stools and a long green, marbled bar
901 U St NW, Washington, DC 20001
(202) 560-5045
THE OBSERVATORY
Located at the top of The Graham Georgetown, head upstairs to our 3,000-square foot deck for an unbeatable view of M street, the skyline of Rosslyn, and DC's iconic skyline. It's the only rooftop bar in Georgetown and we've got delicious hand-crafted cocktails like the Sparkling Watermelon—a mix of vodka, rose, and watermelon. The ever-changing Graham Punch is another favorite, so be sure to ask your server what today's batch is.
1075 Thomas Jefferson St NW, Washington, DC 20007
(202) 337-0900