While the nation's capital is an excellent destination for a family vacation, sometimes the walks get long, the monuments get a bit dry and you need to find some things to do with kids in Washington DC. Not to worry: There are plenty of kid-friendly attractions throughout the District to break up some of the more mature excursions you may be looking forward to.
It's always a good idea to head to an athletic event, so depending on the time of year, you can check out a Capitals, Wizards, Nationals or Redskins game. If you want something a little less season-specific, head to a museum. Here are the best museums in DC for kids:
The Smithsonian National Air and Space Museum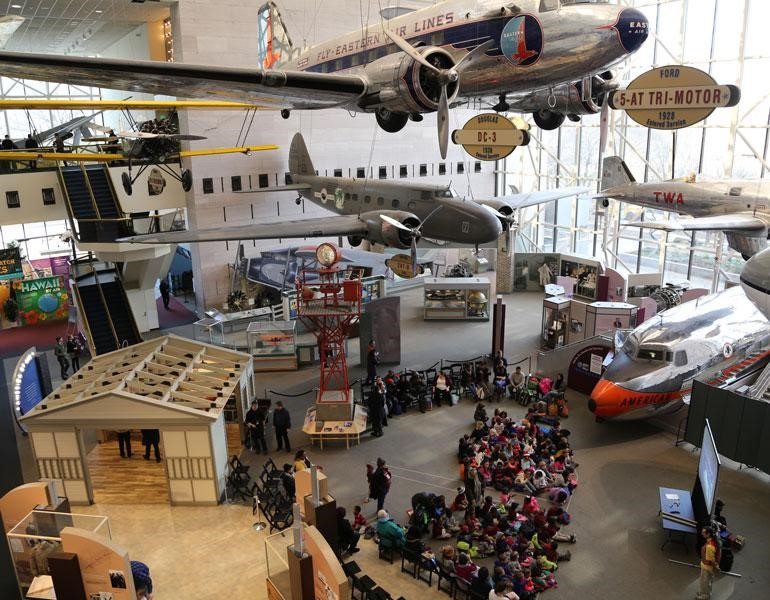 The Smithsonian's National Air and Space Museum is hands down one of the best places you can go with kids in Washington, DC. While it's the largest collection of historical aircraft in the world and an extraordinary visual spectacle, the museum also features a long series of interactive attractions and events. The only thing you have to be careful of at the National Air and Space Museum is that you don't spend the entire day there, because it's easy to get lost in all of the wonder and fun.
National Air and Space Museum
Independence Avenue at Sixth Street SW
Washington, DC 20560
International Spy Museum
Everything the kids see at the International Spy Museum will stop them in their tracks. A broad collection of exhibitions and interactive experiences makes this another easy place to hang out for a while. With fun things to do — like the School for Spies — kids can get their sleuth on and pretend that they're James Bond, or for the more goofy youngsters, Austin Powers. Just be careful that Dad doesn't disappear in his own boyhood fantasy.
International Spy Museum
800 F Street NW
Washington, DC 20004
The flora throughout the United States Botanic Garden is an exciting and captivating attraction for everyone in the family. It's also an easy place to bring the kids, as you can let them go explore plantlife from ecosystems all over the world in a safe and contained environment. With placards throughout for visitors to read and learn about the surrounding wildlife, there are also interactive programs and the very beloved Children's Garden.
United States Botanic Garden
100 Maryland Avenue SW
Washington, DC 20001