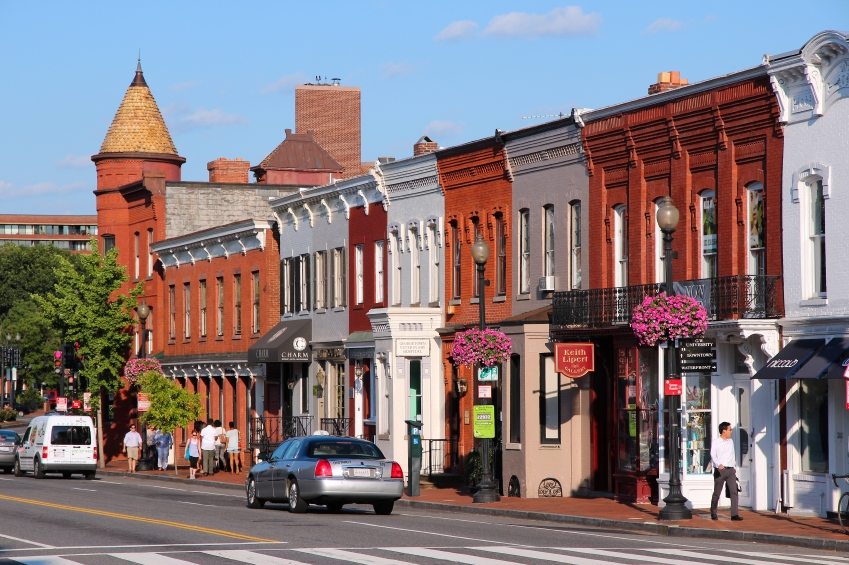 Whether you're shopping for a niece, nephew or a couple little ones of your own, Georgetown has some great boutiques specializing in children's clothing and toys. From high-end fashion lines to independent toy stores, here are a few of our favorites
EGG BY SUSAN LAZAR
Popular with celebrities like Natalie Portman and Gwyneth Paltrow, Egg was founded in 2003 by fashion designer Susan Lazar. The clothing is simple yet modern, drawing in stylish mothers who want their children dressed in quality outfits. Egg uses natural, organic fabrics in its clothing and their styles range from basic grays to vibrant prints. We love this floral drop-waist dress for girls.
Egg only has a handful of stores, primarily in New York, and this is the only one in the DC area, so make sure to stop by while you're in town.
TUGOOH TOYS
This vibrant store on Wisconsin Avenue offers eco-friendly and educational playthings. The majority of their toys are made in the United States and Europe and focus on using recycled materials. Tugooh has a wide range of science-related items like telescopes and mini science experiments as well as lots of arts and crafts kits like jewelry making and clay molding.
We love the shop's wide range of stuffed animals and plush toys too. Our favorites are the Baby Cozies by North American Bear Co. These soft stuffed animals serve as snuggle buddies for your baby and don't have any hard buttons or seams.
LITTLE BIRDIE BOUTIQUE
Formerly on P street, Little Birdie has moved to Wisconsin Ave this fall with a wide range of children's clothing and accessories. What's great about this boutique is that it offers new items for those on a budget. We love the 7AM Enfant stroller sleeping bags—perfect for winter jogs.
If you love the look of monogramed pieces, you're in luck. Any of the items you pick out can be customized through local company Whyte House Monograms. Little Birdie Boutique also hosts story times and parties as well so make sure to check out upcoming events when you stop by.
DAWN PRICE BABY
Dawn Price has adorable clothes for little boys and girls from formal suits and dresses to PJs. We love the Kyte sleep sacks, which are ultra soft with a fleece lining, and the Books To Bed pajama sets with storylines like Madeline printed on them. If your child has trouble sleeping, check out their Twilight Cuddle Buddies range. These plush night lights also play music to help ease your baby to sleep.