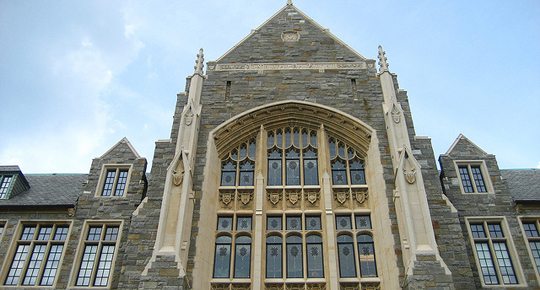 Washington DC and the surrounding areas have been sculpted and shaped for the minds of world leaders for the past several centuries. Keeping this in mind, it's fascinating to explore the dynamic and widespread collection of architectural accomplishments in Washington and Georgetown. In order to help guide your search, we've broken down some of the best places to start your DC architectural tour.
Healy Hall
Located on the main campus of Georgetown University, Healy Hall is an amazing piece of gothic revival architecture. Long pointy towers, and a dark, ancient façade, the shear grandiosity of this building makes it worth the visit. Healy Hall is an excellent example of symmetry and craftsmanship. This may also lead you to explore other gothic revival buildings in the area such as the Washington National Cathedral and the Smithsonian Castle.
The Old Patent Office Building
Known to most now as the Smithsonian American Art Museum, the Old Patent Office Building is a classic example of DC's amazing Greek revival architecture scene. With an epic, pillared entryway, the attitude of this building speaks is storied and bold tradition. Similar to other Greek revival buildings— Arlington House and the US District Courthouse— the Old Patent Office Building is a must visit on your DC architectural tour.
Federal Reserve Building
A visually breathtaking piece of DC's art-deco scene, the Federal Reserve Building sits on Constitution Avenue with a breadth and symmetry that shouts class and importance. Part of a more modern and growing side of the Washington art and architecture scene, this building is a symbol of progress and artistry.
A more expansive tour can be taken from these examples by exploring their architectural themes and original designers. Before you know it, your whole trip will be filled with possible trips and awe-inspiring spectacles by creating your own DC architectural tour.