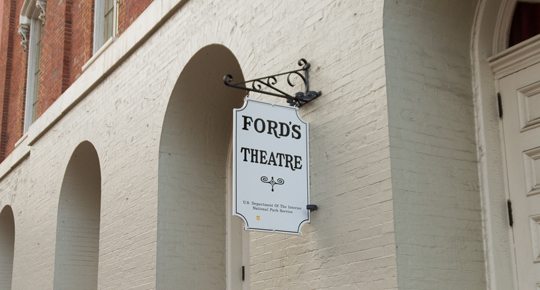 Washington DC is home to one of the most active theatre and performing arts scenes in the country. With a wide variety of local entertainment options available on both the stage and the big screen, the city is home to historic halls and modern venues alike. Read on to learn more about our favorite theaters in DC:
The National Theatre
This storied establishment is located just down the street from the White House on Pennsylvania Avenue. For more than two centuries, the National Theatre has hosted productions for the country's leaders and local elite. The National is known for its absolutely gorgeous interior, featuring aqua blue walls and three levels of soft red seats. In addition to its lovely design, the National Theatre presents consistently great shows. The theatre's event schedule includes Broadway shows, classic movies, children's programming, concerts and more.
The National Theatre
1321 Pennsylvania Avenue NW
Washington, DC 20004
www.thenationaldc.org
Ford's Theatre
Known by many for its historical notoriety, Ford's Theatre is also an active theatre and museum. Along with its dark history — it was the place where Abraham Lincoln was shot and killed — Ford's Theatre has taken the story and morphed it into something positive. Celebrating the legacy of President Lincoln, Ford's Theatre runs an educational museum right on property. This makes a trip to the Ford for any of the theatre's highly regarded shows a multi-faceted and rewarding experience.
Ford's Theatre
511 10th Street NW
Washington, DC 20004
www.fords.org
West End Cinema
For those looking for a different theatre experience, we decided to close out our list with our favorite local spot to catch a movie. West End Cinema is a delightful establishment, playing the best in arthouse and independent movies. With great films on display alongside a solid selection of amenities and treats, this is a perfect place for a low-key night at one of our favorite theatres in DC.
West End Cinema
2301 M Street NW
Washington, DC 20037
www.westendcinema.com