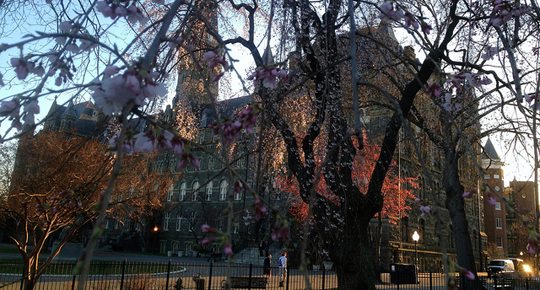 New students, prospective students, visitors of Georgetown who're curious about the neighborhood's prized academic institution and student life, we'd like to tell you that there's a lot going on around here. To give a taste of what it's like to hang around Georgetown University and the greater Georgetown neighborhood, we've built a little day-guide. Here are some examples of how to spend an awesome day on and off campus at Georgetown.
HANG OUT ON COPLEY LAWN
Copley Lawn is one of the larger, grassy open-spaces on the Georgetown University campus. This is a great place to stretch out under the sun and get the feeling of a student enjoying life between classes. If you're up for something active, bring along a book or frisbee and just hangout for a little while.
EXPLORE THE VAST LAUINGER LIBRARY
To delve more into the academic prowess and behemoth that is Georgetown, be sure to stroll through campus and find the Lauinger Library. The building from the outside, much like the rest of campus, is a visual marvel. On the inside, according to the university website's self-guided campus tour, there are just over 2 million bound volumes, which leaves plenty to peruse.
GRAB A BITE TO EAT
After spending some time exploring campus, be sure to step off and check out what's going on around the neighborhood. There are too many excellent restaurants to list right here, so we'll just mention a couple favorites. 1789 Restaurant has the classy and classic American appeal that electrifies Georgetown. Their menu has multiple knock outs including the fried oysters and venison. For a guaranteed great taste of the famous local seafood, check out Sea Catch Restaurant and Raw Bar. The steamed mussels and crab cakes are sure to knock your socks off.
GO SHOPPING
In addition to the excellent local restaurant scene, there's also plenty of great shopping in Georgetown. Hit up M Street for big names like American Apparel, Urban Chic and the Nike Store. The area also hosts several cute boutiques like Hu's Wear and Cusp.
With a relaxed mind, full belly and possibly some new goodies, you may just be ready to call it quits on a great day on and off campus at Georgetown. If not, there are plenty more places to eat, plenty of shows to see and a whole lot more!