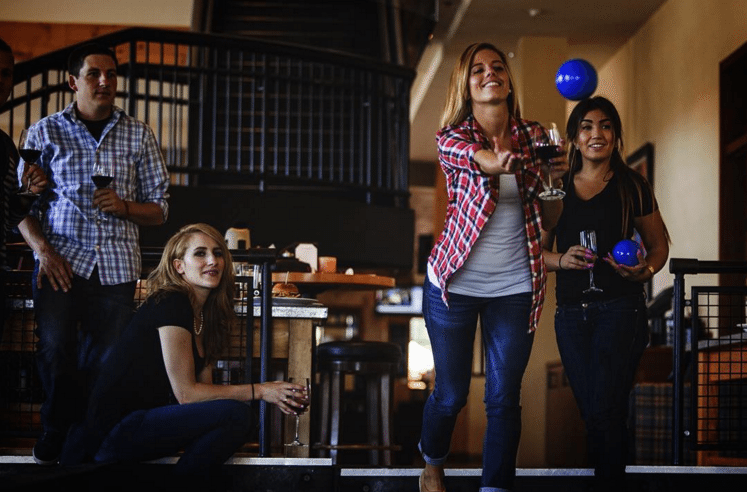 One of our favorite hangouts in Georgetown is neighborhood bowling alley and eatery, Pinstripes. It's the perfect venue for a family day out, after-work drinks with coworkers, or even a romantic date. Here are five of our favorite things about this versatile venue:
BOWLING
Rethink the stale, bright bowling alley where you had your 9th birthday. The sleek, wooden lanes at Pinstripes are modern with large artwork overlooking the pins and big, comfy, leather couches to relax on between turns.
LOVELY OUTDOOR PATIO
With the weather so sporadic you never know if you'll be basking in the sun or needing a hat and mittens in the snow, which makes the outdoor patio on the second level perfect for socializing all year round. There are plenty of seats and tables right at the edge of the picturesque C&O canal. We like savoring a glass of pinot noir out here when the water is iced over in the winter.
IMPRESSIVE LOCAL BEER MENU
The bar at Pinstripes has an impressive wine list with varietals from all over the world, and an array of craft beers on tap from some of our favorite nearby breweries. We always order the Downright Pilsner from Alexandria-native Port City Brewing and the Peppercorn Saison from DC's 3 Star Brewery Co, which has a little kick to it.
THE FILET MIGNON TRIO
You might be having too much fun with all the games and drinks at Pinstripes, but make sure to try the delicious Italian-American cuisine as well! We love the filet mignon trio with three tender cuts of beef topped and cooked with gorgonzola, parmesan and black peppercorn. The side of asparagus rounds out the meal with its seared edges and crisp bite.
BOCCE BALL
For those who could be into more than bowling, give bocce ball a try! This Italian game played with smaller balls is easy for the whole family to learn and it can get fiercely competitive. It's our go-to game for a lazy Sunday afternoon.
image @pinstripesbbb