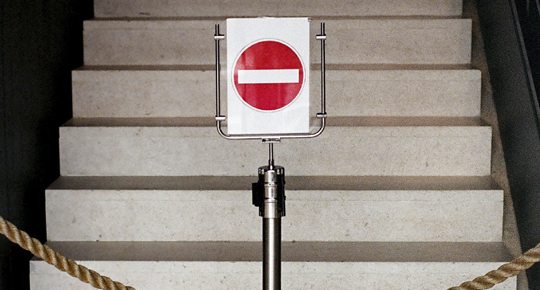 We're constantly suggesting great things to do in Washington DC, because … well, there are plenty of exceptional experiences to enjoy here. But not everything is fair game. We've got a few friendly guidelines by which visitors and locals alike should abide.
Let the buffoons who've made these mistakes in the past be the butt of locals' jokes while you steer clear of these top 10 things not to do in DC.
1. Don't ride in the "Senators Only" elevator at the Capitol Building — Unless You're Invited!
The US Capitol Building has faced issues in the past with civilians taking rides on the "Senators Only" elevator. A 2006 piece from the New York Times on the subject points out a few grumpy politicians who have shown some sensitivity over the exclusivity of their elevator.
2. Don't try to shop at the National Mall
It's a collection of the United States' most prized monuments, not a retail bazaar. Save your coupons, people.
3. Don't wait too long to go to the museum. Everything closes early!
The Smithsonian, National Air and Space Museum, and the Museum of Natural History all close at 5:30 p.m.. Daytrips are the way to go!
4. Don't get caught eating a normal-size slice of pizza.
Why eat a regular, puny slice, when DC is home to the world famous jumbo slice? The two top places to find an extra-large, super-cheesy slice in the District are Pizza Mart and the aptly-named Jumbo Slice, both located in unassuming NW 18th Street storefronts in the Adams Morgan neighborhood.
5. Don't spend all your time in museums.
The museums and tours in DC are great. But so are our restaurants, bars, boutiques, parks, and outdoor spaces. Tour and explore: Keep it balanced!
6. Don't try to find "J" Street
DC is built upon on a lettered street system, but for some reason, there is no J Street. So don't let that throw you.
7. Don't litter at Nationals Park — or anywhere else, for that matter
Nationals Park, home of the Washington Nationals baseball team, is the nation's first major professional stadium to become LEED Silver Certified by the U.S. Green Building Council. So watch the litter, please!
8. Don't get litigious
Washington DC has the highest concentration of lawyers in the country, so if you get into a random argument on the street, you could be squaring up with a pro!
9. Don't get lost in the National Library
The National Library boasts more than 500 miles of books, so be mindful of your surroundings while perusing the stacks.
10. Don't forget your umbrella!
It's the truth: Washington DC sees more rain per year than Seattle, on average. Be prepared for precipitation with a hooded windbreaker and an umbrella.